Steps of Mail Merge in MS Word 2007
Mail Merge:
Mail Merge is a very useful tool in MS Word. It allows you to produce multiple letters, labels, envelopes, and more using information stored in a list, database, or spreadsheet.
The main feature of Mail Merge is that "it allows the user to create multiple e-mails for different recipients at once". This feature works almost the same in all modern versions of MS Word: 2010, 2013, and 2016.
Mail Merge in Ms Word 2007 Step by Step:
Step1:
Write an application letter to all employees for Annual General Metting in Office.
Example:
To
The Manager
KOLKATA – 700091
Dear employee,
This is for your kind information that the 'Annual General Meeting' will be held on 16th June 2021 at 10.am in our regional office of TCS Gitobitan. So, kindly confirm your participation either through mail or telephone.
Best Regards,
Your Manager,
Step2:
Create and Develop a Mail Merge in MS-Word for notifying all employees of an Annual General Meeting in Office.
So, At first, Go to Mailings Menu → Click Start Mail Merge → Step by Step Mail Merge Wizard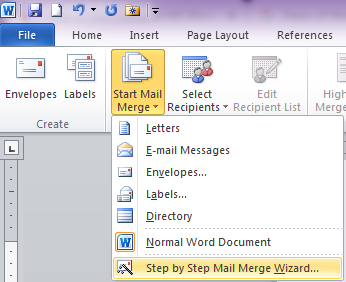 → Click Letters radio button → Then Click Next: Starting Document → Click Use the current document radio button → Then Click Next: Select Recipients → Click Type a new list radio button → Click Create icon.
Step3:
At first, Click Customize Columns → Then you can add, delete and rename the field name as per your requirement → Click OK Button.
Step4:
At first, Click New Entry several times (such as – 4 times) → then fill up all fields of the New Address List Menu → Click OK Button → Then Give a name for saving the database file (Microsoft Office Access Application file (.mdb))
Step5:
Go to Mailings Menu → Click Insert Merge Field → Choose the field names and keep those fields in the correct and appropriate position
→ And Then Finally Click Preview Results (<<ABC>>) icon for viewing all merged data.